PC Only Content
Information on this page is PC specific.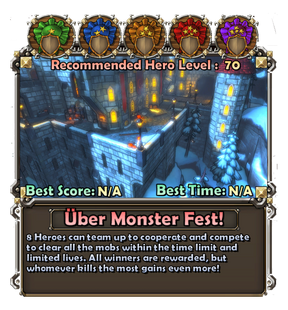 Uber Monster Fest
(UMF) is an 8-player
challenge
that takes place on the
Frostdale
map. It is based on the
Monster Fest
Challenge.
This challenge was introduced to give everyone an option for obtaining high-end gear without spending six to eight hours in Survival. However, to beat UMF on Nightmare difficulty Super Loot gear is needed from Survival or Mix Mode Survival.
Note:  There are no crystals to defend on this map, therefore players must have high hero health stats to survive the waves upon waves of powerful enemies.
See Also
Similar Challenges
​These are similar Uber Monster Fest challenges on different maps.
Recommended Level: 70
Challenge Information

Number of Crystals
Number of Waves
N/A
7
Defense Units
Starting Mana
120
1000
Hazards
Mana Per Round
Falling Off Ledges
1000
Spawn List
Ad blocker interference detected!
Wikia is a free-to-use site that makes money from advertising. We have a modified experience for viewers using ad blockers

Wikia is not accessible if you've made further modifications. Remove the custom ad blocker rule(s) and the page will load as expected.