PC Only Content
Information on this page is PC specific.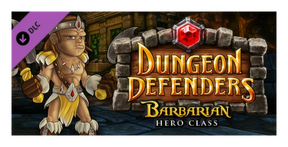 The
Barbarian Hero DLC
is
downloadable content
released for the PC on February 1, 2012. It contains an
additional hero
class, the
Barbarian
.
It is currently available on Steam for $2.99 for the PC only, with no future plans for a console release.
Promotional Description
"Hailing from the dense jungle lands far to the south, the Barbarian is a masterful fighter who can wield two melee weapons simultaneously and unleash devastating combos! Using five distinct fighting stances instead of towers, the Barbarian is able to adapt to any combat situation.
His Battle Leap ability allows him to instantly close the distance to a far-off target, while his Battle Pound ability will decimate any nearby enemies.
If massive damage and incredible destruction are what you seek, the Barbarian is the hero for the job!"
- Steam[1]
Media
Ad blocker interference detected!
Wikia is a free-to-use site that makes money from advertising. We have a modified experience for viewers using ad blockers

Wikia is not accessible if you've made further modifications. Remove the custom ad blocker rule(s) and the page will load as expected.