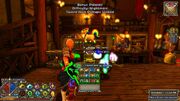 The "Toxic Empire"- This event will be on an open server and will be a custom map. Players will be playing on Summit on Blitzkrieg difficulty. Enemies will be much faster, have more health, and deal more damage. The Boss "Emperor Toxin" will have a health bar of 2.1 billion. There are no build phases except for the first wave, you will have about 10 minutes to make your build.
Ad blocker interference detected!
Wikia is a free-to-use site that makes money from advertising. We have a modified experience for viewers using ad blockers

Wikia is not accessible if you've made further modifications. Remove the custom ad blocker rule(s) and the page will load as expected.