Default controls for Keyboard and Mouse and Xbox controller
| Keyboard and Mouse | Xbox controller | Function |
| --- | --- | --- |
| Mouse 1 | Right Trigger | Primary Attacker |
| Mouse 2 | Left Trigger | Alternate Attack |
| Left Shift | Right Bumper | Action Wheel |
| W | Left Thumstick Up | Move Forward |
| A | Left Thumstick Left | Strafe Left |
| S | Left Thumstick Down | Move Backward |
| D | Left Thumstick Right | Strafe Right |
| X | Left Thumbstick(Push) | Swap weapons (Series EV) |
| E | X | Activate |
| F | Y | Alternate Activate |
| C | B | Call Out and Mark Location |
| R | | Alternate Attack |
| I | Select | Hero Info |
| M | | Drop All Mana |
| G | | Activate crystal |
| Space | A | Jump |
| Ctrl | Left Bumper | Move Camera |
| | Right Thumbstick | Adjust Camera |
| + | = | Increase Radius |
| - | _ | Decrease Radius |
| Mouse Wheel Up/Down | Right Thumbstick(Push) | Change Zoom |
| Esc | Start | Pause |
| F1 or ~(tilde) | | Chat Log |
| 1 | DPad Left | Heal |
| 2 | DPad Down | Skill 1 |
| 3 | DPad Up | Skill 2 |
| 4 | Dpad Right | Repair |
| 5 | | Upgrade |
| 6 | | Defense 1 |
| 7 | | Defense 2 |
| 8 | | Defense 3 |
| 9 | | Defense 4 |
| 0 | | Defense 5 |
| H | | Toggle HUD |
| Q | | Free Look |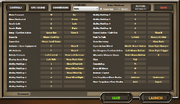 Ability hot keys (1-0, and DPad) can have their functions, but not their keybindings, reassigned during gameplay by the user. All commands available via the Action Wheel can be reassigned to an ability hot key.
To assign a command, point the action wheel to the command needed, press and hold the desired hot key to assign the command.
Due to a glitch, the left thumbstick may change to Change Zoom. Switching to the alternate layout in-game and back again will restore Series EV weapon changing functionality.
Ad blocker interference detected!
Wikia is a free-to-use site that makes money from advertising. We have a modified experience for viewers using ad blockers

Wikia is not accessible if you've made further modifications. Remove the custom ad blocker rule(s) and the page will load as expected.