PC Only Content
Information on this page is PC specific.
The Djinnlet is a type of Familiar. It was released with the City in the Cliffs pack. The player receives it at Wave 15.
Notes
Can attack your opponents with three elemental attacks (2 Poison, 1 Fire and 1 Electric projectile), which gives the player mana.
Can have up to 3 additional projectiles (the 4th is a 2nd Poison projectile).
Can have up to a 6 attack speed bonus.
Awards players up to a maximum of 90 mana at a time.
Mana awarded to players is dependent on the amount of damage the Djinnlet deals to enemies (a lower base damage stat is needed on Nightmare to reach the maximum amount of mana awarded at a time due to the damage multiplier of familiars).
When using the Summoner's Overlord Mode, players will not benefit from the pet's mana gaining ability due to it being linked to the actual animation taking place.
Projectiles pierce enemies and walls.
The fourth projectile (poison) overlaps with the original projectile (fire) meaning that an enemy directly shot at is damaged regardless of elemental immunity
Possess the hidden ability to knock back enemies.
Media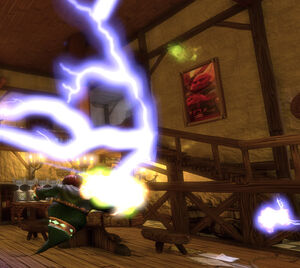 Ad blocker interference detected!
Wikia is a free-to-use site that makes money from advertising. We have a modified experience for viewers using ad blockers

Wikia is not accessible if you've made further modifications. Remove the custom ad blocker rule(s) and the page will load as expected.