The King's Game
Comments

67
1,082pages on
this wiki
PC Only Content
Information on this page is PC specific.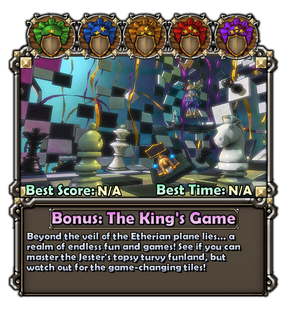 The King's Game
is a bonus campaign map that was released August 8th, 2012, as part of the
Jester Hero Class DLC
. It had been available as a free download until August 22nd, 2012.
Rewards
Costumes
Completing this map on any difficulty will unlock The Fool Costume for the Jester.
Gameplay
During the build and the attack phase, a select number of tiles on the map will be shiny and have a light pattern moving across them. Making contact with these tiles activates different buffs and debuffs for the map, some of which are listed below, and are similar to the Jester's Wheel of Fortuna ability.
There are 11 glowing tiles on the entire map (four on the top floors, three on the middle floors and four on the bottom floors) and, after being activated, are disabled for 15 seconds. During the build phase, shiny tiles can be stood on, but will not do anything until the round starts.
Buffs & Debuffs
Stepping on a glowing tile activates a random effect. Some effects have a higher frequency of occurrence than other effects. The hero cannot influence which effect is being activated. The following table shows an approximation of the likelihood of each effect. For Nightmare games, the probabilities are similar, but additional Nightmare-specific effects occur (e.g. All Sharkens killed).
Name

Effect
Probability

Kill a type of enemy

All %Enemy Name% Has been killed!

Kills a type of enemy on the map

5%

Ouch!

Damages all players by 19.9-21.6% of their maximum health.
10%
All Players Healed
Heals all players.
20%
You Have Mana
All players grants 1000 Mana.
18%
A percentage of enemies killed ("Some Enemies Have Been Killed")
Kills a small percentage of the total enemies on the map.
8%
Jump Height Temporarily Increased
Decreases the gravity for a short while.
9.5%
Up, Up and Away!
All players get sent into the air, noteable higher than the jump height increase.
8%
Core Health Partially Restored
Restores 500 health to your core.
5%
Defenses: Upgraded!
Upgrades all defenses to 3 stars.
0.5%
Defense Units Increased
Increases the total Defense Units and Minion Units by 10.
8%, max once per game
Slow Motion
Slows the whole game for a shot period of time.
8%
Sample size 460 tile activations on multiple games in The King's Game (Insane, Hardcore, Ranked, v7.44b). Note that since DU Increased can only occur once per game, the actual probability that it will happen at all is much higher than 0.9%.
DU Increased is now confirmed to be 8% chance to trigger.
Notes
During development, community input was taken into consideration.[1]
A bug in Nightmare makes it so there is no message when all Ogres are killed, though the stars spewed by the tile have the same orange tinge as with other species kill effects.
Summoners can step on tiles without taking damage by activating the Phase Shift ability.
Media
Legend of the map of The King's Game as viewed in the Media:
Red Circle: Monster Spawner
Yellow Cross: Chess Piece
Indigo Square: Location of Mana chest
Green Diamond: Location of Forge
Gray Tile: Glowing Tile Spawn Location
Red Arrow: Ramp to lower level (Arrow pointing out) or upper level (Arrow pointing in)
Map Details