PC Only Content
Information on this page is PC specific.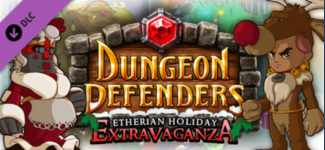 The Etherian Holiday Extravaganza DLC is a Christmas-themed Downloadable Content pack for the PC that was released for free on December 19, 2011.
It originally contained a challenge (Etherian Holiday Extravaganza) with accompanying achievement and a new Mega Snowman boss, 4 new weapons, and new unlockable costumes for the Apprentice, Huntress, Monk, and Squire.
The new weapons are:
The new costumes are:
Added to the Etherian Holiday Extravaganza DLC pack on December 21, 2012:
Ad blocker interference detected!
Wikia is a free-to-use site that makes money from advertising. We have a modified experience for viewers using ad blockers

Wikia is not accessible if you've made further modifications. Remove the custom ad blocker rule(s) and the page will load as expected.