Attack:
Tongue Slash, Laser
Special:
Knockback
Introduced:
Patch 7.20 - Moraggo Desert Town
The Genie King is the boss for the second part of Quest for the Lost Eternia Shards DLC featured in Moraggo Desert Town.
"He rules the arid land alongside his faithful djinns, using any one of his powerful attacks to keep strangers out. He reigns with an iron fist...err... beard? Beware of his minions and keep a sharp eye out for his lamps."
-- DD Digest (3/14/12)
Combat
In the final boss wave of Moraggo Desert Town, the Genie King will spawn and immediately go into the first lamp. When players use the lamp the Genie King will temporarily leave the lamp, but reenter upon losing a certain percentage of his health.
The Genie King will then reenter a random lamp and remain hidden inside until players interact with the lamp once again.
NOTE: The Genie King will automatically leave his lamp after a few minutes... handy if you die in hardcore mode.
Attacks
Melee: The Genie King will occasionally spit out his tongue and spin around knocking back those hit by the tongue.
Ranged: The Genie King will shoot a laser out of both his eyes. The lasers have limited range and will not aim at players if he or she is at lower position than Genie King.
Summon: Genie King will summon three little Djinns from his mounth. These, while weak, are immune to damage from towers, so only players can kill them. As a reward, they drop a lot of mana when killed.
Strategy
As there are several lamp locations throughout the map, players should take note of certain visual clues the Genie King makes.
When randomly entering a lamp, the Genie King leaves a purple dust trail pointing towards the next lamp. This will soon disappear, but the lamp itself will also emit a purple smoke when containing the Genie King. You can further limit the search by using the tune played to home in on his lamp (will get louder; the closer you are to him).
Once the king has been summoned (he will summon himself if you don't find him quick enough) you should either:
With ranged heroes, run away and shoot him from outside his laser vision range.
With melee heroes, approach him and continually run around him in circles whilst attacking (to evade his laser vision) and jumping backwards when he tongue spins.
Summon a tower(/s), preferably out of range of his lasers/tongue, though this requires the build to have leftover DU, which is not always the case. (Note that towers cannot damage his mini-Djinn meaning that the player, their pet or team members will have to dispatch them.)
For a Squire/Countess, perhaps the safest way of taking down the boss involves using the block ability and a DPS pet. Simply spawn the boss, put your back to a wall nearby, and block. As long as your pet can reach and damage the boss, you run no risk of death. Once the boss goes back into his lamp, repeat.
For the Summoner, activate Phase Shift Overlord whilst standing next to him, then summon a couple or archers/mages, his laser visions should target you (doing no damage due to phase shift) whilst your minions whittle away his health. Note: minions are unsummonable is certain locations, inwhich case you can wait for him to hide again or (if you have sufficient minion range(/an active EV with you)) summon a minion further away (and TBB it)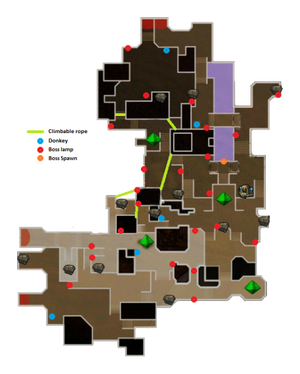 Genie King