Hero Damage is one of ten stats that every hero has. It affects how many damage points your character will inflict to monsters. Hero Damage only affects physical damage.
The way your damage increase depends on your hero's weapon and Hero Damage stat. This increment is called scale of progression.
Formula
The weapon damage is simply multiplied by a logarithmic damage multiplier. The formula to calculate the approximate damage your character inflicts is:
Where "x" is the Hero Damage stat, and "y" is the weapon damage, dropping all fractions, never round. The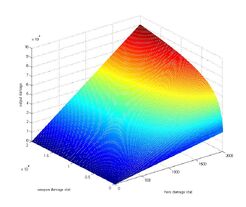 result will not be the DPS (Damage Per Second), but the median damage inflicted by your hero per hit. To find your hero's minimum damage multiply this value by 0.84, and to find the maximum multiply by 1.17. This is very approximate and does not apply to all heroes equally for every animation. For example, the Countess' 3rd swing is two possible stronger hits than the first two swings.
The results are approximated, so the margin of error can be more then 6% above Hero Damage 100.
This formula was discovered by "Cel" on 03-Nov-2011, in Dungeon Defenders Forums.
The Summoner doesn't carry a weapon, but his Hero Damage stat will increase the damage of his familiars of HEROIC, Mythical and higher quality.
Easy Damage Calculator
Point your browser to WolframAlpha, and change X by your Hero Damage, and Y by your weapon damage.