PC Only Content
Information on this page is PC specific.
Holographic Decoy
is a
Series EV
skill. It projects a holographic replica of the Series EV that will attract and confuse enemies before detonating in their faces.
Use
The Holographic Decoy appears to be intended for temporarily averting the enemy attention, and exploding within the resulting cluster of enemy ground units.
Leveling and Costs
The Holographic Decoy costs 100 mana. Investing stat points into Holographic Decoy will increase the projected decoy's lifespan.
Notes
Media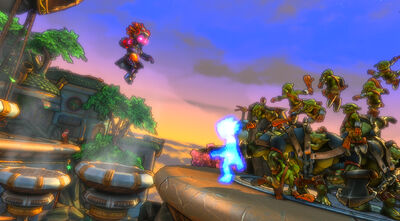 Ad blocker interference detected!
Wikia is a free-to-use site that makes money from advertising. We have a modified experience for viewers using ad blockers

Wikia is not accessible if you've made further modifications. Remove the custom ad blocker rule(s) and the page will load as expected.