PC Only Content
Information on this page is PC specific.
The Magic Lamp is a Huntress weapon awarded for completing Uber Death From Above as a Huntress or Ranger and possibly as the Series EV.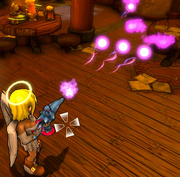 Notes
The weapon's appearance is similar to the Magic Lamps used in the War of the Djinn challenge.
Ad blocker interference detected!
Wikia is a free-to-use site that makes money from advertising. We have a modified experience for viewers using ad blockers

Wikia is not accessible if you've made further modifications. Remove the custom ad blocker rule(s) and the page will load as expected.