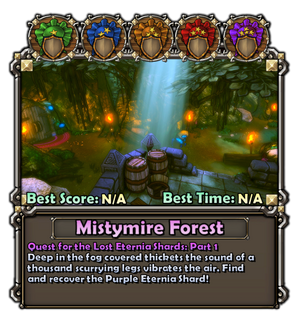 The
Mistymire Forest
map was released on 15th December 2011 as part of the
Quest for the Lost Eternia Shards
DLC - Part 1
.
The map is a large forest with Spiders and a Spider Queen boss.
Rewards
Costumes
Eternia Shard
Notes
Shroomites can be found on the map as well. They act similar to treasure chests. They can be "Pet" once per round, and drop mana. As well, they may heal your hero or deposit an item directly into your item box. The items quality changes by the difficulty of the map. *Shroomites can be found at each of the four edges of the map, as well as one at the center in the buildings.
Media
Map Details
Ad blocker interference detected!
Wikia is a free-to-use site that makes money from advertising. We have a modified experience for viewers using ad blockers

Wikia is not accessible if you've made further modifications. Remove the custom ad blocker rule(s) and the page will load as expected.