PC Only Content
Information on this page is PC specific.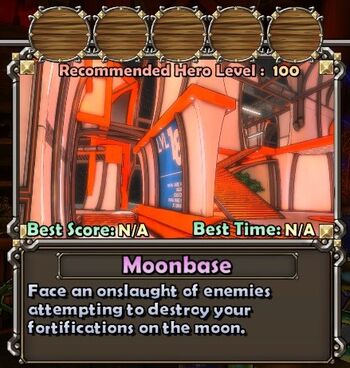 The
Moonbase
challenge
was released as part of
PC Patch 8.0
on 16 September 2015. As part of
PC Patch 8.2
on 4 August 2016, it was converted to a campaign map with
Survival Mode
added.
Rewards
Items
Players are awarded 6(?) Mythical weapons and items, along with 1 class weapon.
The Fish in a Bowl pet is awarded for touching the fish bowl and then completing the map (see Notes).
The Treadmill on a Treadmill pet is awarded for scoring exactly 42 points on the DDR minigame on nightmare, touching the fish bowl (not necessarily in that order), and then completing the map.
The Moon pet is awarded for completing the final wave (wave 35) of its Survival Mode.
Notes
To unlock the Fish in a Bowl, players must first locate and activate two buttons hidden in the map. One button is located on the ceiling of the northern edge of the map, and the other is located underneath some stairs on the western edge. Pressing both buttons unlocks a door next to the DDR minigame located at the south eastern corner of the map. Touching the fish bowl located through the doorway unlocks the pet upon completion of the map. To obtain the fish in the bowl pet, please follow the visual guide in the media section below.
Strategies
Media
Map Details
Ad blocker interference detected!
Wikia is a free-to-use site that makes money from advertising. We have a modified experience for viewers using ad blockers

Wikia is not accessible if you've made further modifications. Remove the custom ad blocker rule(s) and the page will load as expected.