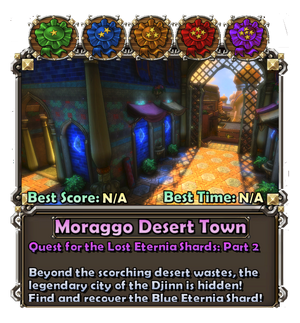 The
Moraggo Desert Town
map was released on March 15th 2012, as part of the
Quest for the Lost Eternia Shards DLC - Part 2
.
The map is a large desert town with Djinn and a Genie King boss.
Eternia Shard
Defeating the King boss will allow players to retrieve the blue Eternia Shard. A trophy resembling one of the Genies lamps will appear in the player's tavern.
Retrieve all Lost Eternia Shards to unlock access to the Crystalline through a tavern portal.
Notes
To get the Donkey pet you have to reach wave 15 on any difficulty.
Any console players looking for a working setup can look here:
There is currently a glitch on console versions, where map freezes if there are 3+ people on map.*fixed*
Media
Map Details