PC Only Content
Information on this page is PC specific.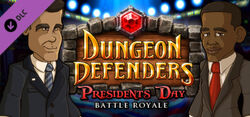 The
President's Day Surprise
is Presidents' Day-themed
downloadable content
for the PC that was released with PC Patch
7.18
on the 20th February, 2012.
[1]
It contains the Presidential Battle Royale challenge, new boxing glove weapons, the Democrat Donkey and Republican Elephant pets, and four new unlockable player costumes.
Promotional Description
Pitch your heroes against each other in the 'Presidential Battle Arena,' where you'll have to not only fight each other for the most points, but do so while evading the deadly Demon Boss. Beat the mission to be awarded a 'presidential' skin for your class, a unique pet, or more!
-Steam[2]
Costumes
Costumes are unlocked by completing the challenge using the associated hero class.
Notes
Media
Ad blocker interference detected!
Wikia is a free-to-use site that makes money from advertising. We have a modified experience for viewers using ad blockers

Wikia is not accessible if you've made further modifications. Remove the custom ad blocker rule(s) and the page will load as expected.