The Sea Spear is a Monk weapon. It is a random drop in Aquanos.
Notes
Unlike the Lemurian Halberd, the Sea Spear can only have up to 4 additional projectiles.
As of v7.33, this weapon deals electric elemental base ranged damage. Also, unlike other weapons, its only additional elemental stat can only be lightning.
Other names for the weapon include Barnacled Pike.
Related Rewards
Related Items
Media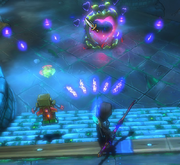 Ad blocker interference detected!
Wikia is a free-to-use site that makes money from advertising. We have a modified experience for viewers using ad blockers

Wikia is not accessible if you've made further modifications. Remove the custom ad blocker rule(s) and the page will load as expected.