Ad blocker interference detected!
Wikia is a free-to-use site that makes money from advertising. We have a modified experience for viewers using ad blockers

Wikia is not accessible if you've made further modifications. Remove the custom ad blocker rule(s) and the page will load as expected.
Here you'll find graphical representation of statistic progression for the 4 original classes on PC. Values used to generate the graphs were taken directly from DDDK (Dungeon Defenders Development Kit) files, you will find a direct link to these values in text form at the bottom of this page.
Original work and data mine done by Putziorion. Numbers current as of 7.11b.
Hero Health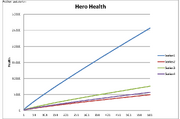 {C}
Hero Health
= ROUNDDOWN(GetPlayerTemplateHealth SquireHero * (1 + (StatHeroHealth^HeroHealthExponentialFactor SquireHero)*HeroHealthLinearFactor SquireHero),0)
Hero Damage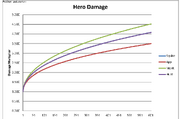 {C}
Hero Attack
= 1 + StatMultInitial_HeroDamage SquireHero*((MIN(StatHeroDamage + 1,StatBoostCapInitial_HeroDamage SquireHero)^(StatExpInitial_HeroDamage SquireHero*1.1) - 1) +StatMultFull_HeroDamage SquireHero*((StatHeroDamage+1)^(StatExpFull_HeroDamage SquireHero*1.1) - 1))
Hero Speed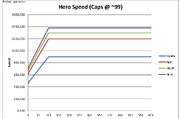 {C}
Hero Speed
= (GetPlayerTemplatePlayerGroundSpeed SquireHero) * (1 + (MIN(StatHeroSpeed,3)*StatMultInitial_HeroSpeed SquireHero) + (MIN(StatHeroSpeed,MAX_STAT_VALUE_SPEED SquireHero)*(StatMultFull_HeroSpeed SquireHero / MAX_STAT_VALUE_SPEED SquireHero)))
Hero Casting Speed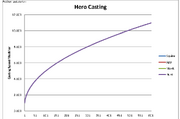 {C}
Hero Casting
= 1 + (StatMultInitial_HeroCastingRate SquireHero*((MIN(StatHeroCasting + 1,4)^StatExpInitial_HeroCastingRate SquireHero) - 1)) + (StatMultFull_HeroCastingRate SquireHero*(((StatHeroCasting+1)^StatExpFull_HeroCastingRate SquireHero) - 1))
Hero Ability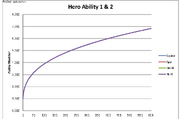 Ability One and Two = 1 + (StatMultInitial_HeroAbilityOne SquireHero*((MIN(StatAbilityOne + 1,4)^StatExpInitial_HeroAbilityOne SquireHero) - 1)) + (StatMultFull_HeroAbilityOne SquireHero*(((StatAbilityOne+1)^StatExptFull_HeroAbilityOne SquireHero) - 1))
Tower Health
Tower Health
= 1 + (StatMultInitial_DefenseHealth SquireHero*((MIN(StatTowerHealth + 1,4)^StatExpInitial_DefenseHealth SquireHero) - 1)) + (StatMultFull_DefenseHealth SquireHero*(((StatTowerHealth+1)^StatExptFull_DefenseHealth SquireHero) - 1))
Tower Damage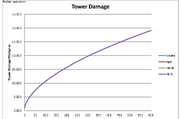 {C}
Tower Attack
= 1 + (StatMultInitial_DefenseDamage SquireHero*((MIN(StatTowerDamage + 1,4)^StatExpInitial_DefenseDamage SquireHero) - 1)) + (StatMultFull_DefenseDamage SquireHero*(((StatTowerDamage+1)^StatExptFull_DefenseDamage SquireHero) - 1))
Tower Speed
Tower Rate
= 1 / (1 + (StatMultInitial_DefenseAttackRate SquireHero*((MIN(StatTowerRate + 1,4)^StatExpInitial_DefenseAttackRate SquireHero) - 1)) + (HeroDefenseAttackRateLinearFactor SquireHero *(((StatTowerRate+1)^HeroDefenseAttackRateExponentialFactor SquireHero) - 1)))
Tower AOE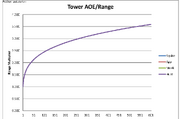 Tower AOE
= 1 + (StatMultInitial_DefenseAOE SquireHero*((MIN(StatTowerAOE + 1,4)^StatExpInitial_DefenseAOE SquireHero) - 1)) + (StatMultFull_DefenseAOE SquireHero*(((StatTowerAOE+1)^StatExptFull_DefenseAOE SquireHero) - 1))
External Links
Original Forum Thread (http://forums.trendyent.com/showthread.php?30110-Graphical-Stat-Ramps-for-stat-planning-in-one-place)
Text file of 7.11b values (http://onebrownshoe.com/dd/hero-stats-7.11b.txt)