| | | | |
| --- | --- | --- | --- |
| | Super Barbarian Guide | By Supeon | Version:1.0.0 |
of this guide is complete.
Introduction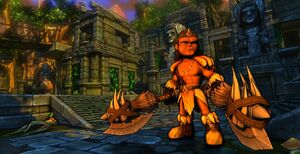 The Barbarian has two firsts: the first DLC character and the first character with no towers. The Barbarian relies on his two weapons (Squire Weapons) and his many abilities (Battle Stances) that help his combat prowess.
If played right, the Barbarian can be practically invincible, mowing down waves of mobs. His main purpose is to support the other wall builders by keeping mob numbers down.
Ad blocker interference detected!
Wikia is a free-to-use site that makes money from advertising. We have a modified experience for viewers using ad blockers

Wikia is not accessible if you've made further modifications. Remove the custom ad blocker rule(s) and the page will load as expected.