Trendy Entertainment
is a new independent Florida studio focused on rapid, low-cost development of arcade video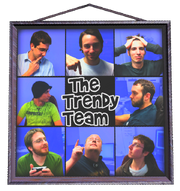 games for digital distribution, composed of the co-founders of Artificial Studios Inc, as well as directors from Ignition Entertainment. With over 40 years of collective industry experience, and many years working with the Unreal Technology that our titles are based on, the Trendy team is poised to unleash some of the most creative, fun, and innovative PC and Console games yet devised, capturing the interests of casual and hardcore gamers alike. We're also in the market for business partners, feel free to contact us to find out more about what we have going on!
Projects
Ad blocker interference detected!
Wikia is a free-to-use site that makes money from advertising. We have a modified experience for viewers using ad blockers

Wikia is not accessible if you've made further modifications. Remove the custom ad blocker rule(s) and the page will load as expected.