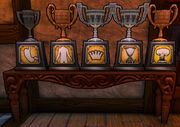 Trophies are visual representations of a player's achievements. Most are arrayed on tables along the walls of the tavern. Visiting another player's tavern will only display the host's trophies.
Display Table Locations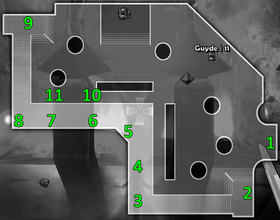 First Table
Second Table
Third Table
Fourth Table
Fifth Table
Sixth Table
Seventh Table
Eighth Table
Ninth Table
Tenth Table
This is the eastern table on the ground floor below the door to the secret room.
Eleventh Table
This is the western table on the ground floor below the door to the secret room.
Floor Trophies
Trophies that appear on the floor in your Tavern
Other Trophies
After finishing the tutorial, the trophy for "Good Student" will appear on the floor near the fireplace.
After obtaining the "Legendary Defender" achievement a huge trophy will appear standing on the floor to the right of where Tavernkeep stands.
With the Lost Eternia Crystal DLC, four more "trophies" are available. After beating a boss, its head will be mounted on the wall either to the left or right of the fireplace, with the Eternia Shard added above it.
See also
Ad blocker interference detected!
Wikia is a free-to-use site that makes money from advertising. We have a modified experience for viewers using ad blockers

Wikia is not accessible if you've made further modifications. Remove the custom ad blocker rule(s) and the page will load as expected.