PC Only Content
Information on this page is PC specific.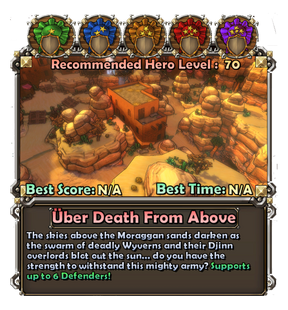 Uber Death From Above
is a
challenge
that takes place on the
City in the Cliffs
map. It is based off the original
Death From Above
challenge.
Unlike the original, this challenge allows for 6-player cooperative play.

Gameplay
Similar to the original Death From Above challenge on The Ramparts, 3 Eternia Crystals must be defended against Wyverns, Mini-Wyverns, Large Wyverns, Super-Wyverns, Ogres and the Djinn . The larger in size the wyvern is, the more slowly it moves towards the crystals.
Similar Challenges
Map Details & Rewards
Recommended Level: 70
Challenge Information

Number of Crystals
Number of Waves
14
Defense Units
Starting Mana
125
1600
Hazards
Mana Per Round
Falling Off Ledges
1600
Spawn List
Ad blocker interference detected!
Wikia is a free-to-use site that makes money from advertising. We have a modified experience for viewers using ad blockers

Wikia is not accessible if you've made further modifications. Remove the custom ad blocker rule(s) and the page will load as expected.