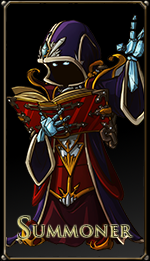 My tag across several platforms, including Steam, is Ditto8353. However, in Dungeon Defenders I go by Lord Ditros: Master of the Dark Arts, or something to that effect. I started playing as a Monk thanks to Steam's Summer Sale and switched to a Summoner as soon as I found out that Monk Auras are not the be-all end-all.
I have since classified my Summoner as my 'Main' and routinely amuse my friends by making their defenses all but obsolete with a Mage Minion and an Ogre Minion dubed Gilgamesh. Once I gained the ability to litter the map with Ogres (Gilgameshes? Gilgamai?) I started in with the number crunching.
My life is nearly consumed by mathematics; it's simply what I'm good at. It didn't start breaking into my free-time until I started raiding hardcore in WoW back in 2008. I have since quit playing WoW, but I continue to impress theorycrafting onto every game I play, if it is even remotely possible.
Expect my posts to contain numbers, plenty of them. Where there are numbers, I will surely not be far behind or ahead for that matter. I am a man of logic and if it cannot be quantified it simply is not logical, and the same follows for any good philosophy.
My favorite pages